Example treatments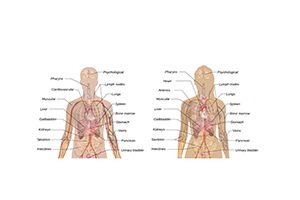 A total of around 85 different organs are available for the extraction of full cells which are then used to treat specific functions and organs.
The preparation of an individual cell programme can only be done correctly by personnel with long years of experience and corresponding qualifications in this biological method of treatment. The selection of the different organ living cells depends on the health disorders and on the results of the painstaking clinical and lab examinations including an ECG.
And this means that interactions and the interplay between the organs have to be taken into account when compiling an individual cell programme.
Some organ cells complement each other´s effects, while others may impair each other´s effects.
The right combination of the different organ cells is therefore a decisive factor for the treatment success of the registered cell products. In view of this importance, it is the Medical Director herself who determines this combination.
Placenta

For functional blood supply disorders and for general vitalisation of the system. Paul Niehans always said: "without the placenta , no living cell therapy"

Connective tissue (umbilical cord) Skin

Weak connective tissue and immunodeficiency, withered skin.

Reproductive glands, (Ovaries, testicles)

Climacteric complaints, menstrual disorders, general revitalisation.

Cerebral cortex, cerebral medula, frontal lobe, etc.

Sclerosis of the cerebral vessels, forgetfulness, lack of concentration, sleep disorders, functional disorders of the blood supply to the brain and headaches resulting from these.

Cardiac muscle incl. right atrium (containing the heart hormone), coronary vessels, inner wall of the aorta (main artery)

Functional cardiac and cardiovascular disorders, particularly when caused by arteriosclerosis – also functional variations in blood pressure and cardiac insufficiency.

Thymus

While other use treatments with thymus extracts, we prefer to use thymus full cells for the following conditions: Growth disturbances, immunodeficiency, susceptibility to infection and to strengthen the body´s own defences.

Immunocell

A cell suspension to strengthen the body´s own defences; this suspension is prescribed as an additional cure in special cases.